Message From CEO Chizuko Yamagami
Our company has 13 year history as the Supplements manufacturer and I regret so many people have health problem but even the latest medical technology can not treat them. Also many people have some problem in health problem but no abnormal value at the laboratory exams. Also how many people realized real longevity who has no health problem? Our company's supplements have the essence of Traditional Chinese Medicine theory, TCM.TCM does not regards a disease as partial problem but regards as a holistic problem and treat people according to the persons type and symptoms. Also, it place great importance on the strong ties between "Human" and "Nature" Our company wants to help people's healthy and long life.Based on TCM and taking latest nutrition theory and new functional materials into account, we would like to develop and produce the human-friendly and safety supplements into world.
CSR ( Company Social Responsibility )
Our company started our supplement business in order to enhance people's health by taking the advantage of the Traditional Chinese, TCM.TCM is good at the treatment for unidentified complaints. Many people have small problem but in many cases such small troubles can not be found in the figure of medical check-up and hospital can not help those people. TCM regards all the health problem come from the imbalance of the body and adjust and tune up taking the traditional herbs or appropriate effect of foods. Since we believe that TCM is one of the most important and effective methods to keep people in good health and help people's longevity we would like to introduce the TCM and develop health supplements based on TCM theory.Therefore, we would like to contribute to the people health by executing the following activities;
Developing the food supplements for the people's healthy and long lives
TCM seminar for both the pharmacists and consumers as health education
Free health counseling for neighboring residents by TCM doctors
Articles on newspapers and magazines for introducing TCM
We also donate our supplements and surgical masks to the victims of Tohoku earthquake and Tsunami.
Company Profile
Company Name
Natural Medicine Association Co., Ltd.
President
Chizuko Yamagami
Address

Head Quarter: 3-1 2F, Nakano 3 Chome, Nakano-ku, Tokyo, 164-0001, Japan
Osaka Office: 7-32-302 Higashi Shinsaibashi 1 Chome, Chuo-ku Osaka-shi , Osaka, 542-0083, Japan
TEL
03-5342-1878
FAX
03-5342-1876
E-mail
info@nmcweb.co.jp
Foundation
Oct.1998
Capital
JPY 20,000,000
Line of business
Development, manufacture and sale of supplements and cosmetics
Academic exchange of Chinese medicine
Main bank
MUFG Bank / Kiraboshi Bank / Seibu Shinkin Bank
History
| | |
| --- | --- |
| Oct. 1998 | Established Natural Medicine Association Co., Ltd. |
| Mar. 2001 | Certification Ceremony of the "American Association for the Promotion of Natural Traditional Therapy "at the American Embassy in Japan |
| Oct. 2001 | Participated in the ceremony to commemorate the name change of Chinese Medicine |
| Jan 2002 | Certified as the first overseas special member of the China Association of Chinese Medicine,(CACM) |
| Oct. 2002 | Participated in Chinese Medicine Applied Symposium organized by CACM |
| Nov. 2002 | Participated in Nanjing International Traditional Chinese Medicine Symposium |
| Dec. 2002 | Attended the signing ceremony for the establishment of the merged company on Hainan Island |
| Sep. 2003 | Exhibited at China International Chinese Medicine Expo in Beijing |
| Oct. 2004 | Made academic presentation at Nanjing International symposium of Chinese Medicine |
| Jun. 2005 | Obtained a prescription patent for "Sleeping Products" |
| Jul. 2006 | Made Special lecture in Hong Kong invited by Chinese Government |
| Oct. 2006 | Made academic presentation at Chengdu International Conference |
| Nov. 2007 | Held 1st Academic Tour to Beijing and Chengdu China, |
| Sep. 2008 | Launched 1st issue of "Shizen-Ryoku News", our newsletter. |
| Jun. 2009 | Received the China Pharmaceutical Academic Contribution Award as a corporation from the People's Republic of China |
| Sep. 2009 | Opened Osaka Office. |
| Nov. 2009 | Moved the head office to the current address |
| Nov. 2010 | Obtained prescription patent for "Blood flow improvement product" |
| Jan. 2012 | Started joint research with Medical Plants laboratory of Institute of special animal and plant sciences of CAAS (Chinese Academy of Agricultural Sciences) |
| Jul. 2013 | Obtained business license for powdered food manufacturing industry |
| Jan. 2014 | Started joint research with Veterinary Alternative Medicine Study Group and launched new products |
| Jun. 2014 | Commenced export to USA, Vietnam, Singapore etc. |
| Mar. 2016 | Commenced export to China and Myanmar |
| Oct. 2017 | Held a gathering to commemorate the 20th anniversary of our company's foundation |
| Aug. 2020 | Obtained the trademark registration of "Ken no chikara" |
| Jan. 2021 | Commenced export to Malaysia |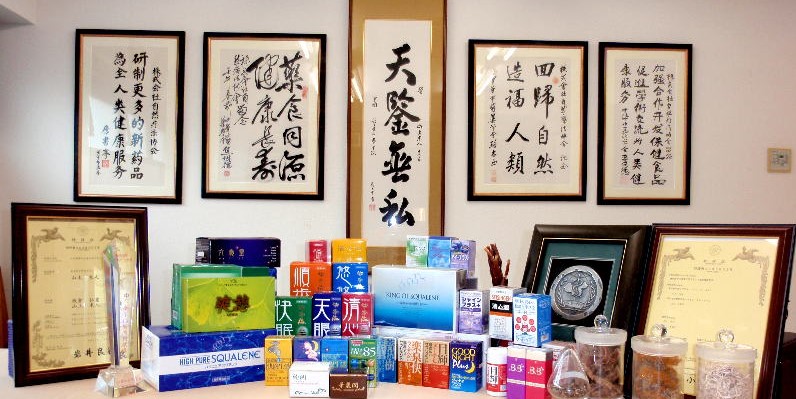 アクセス
10 minuets' walk from Nakano Station (North gate)
JR Nakano Station (Sobu and Chuo line Tokyo Metro Tozai line)
About 10 min. walk from Higashi-Koenji Station.(Marunouchi-Line Tokyo Metro)